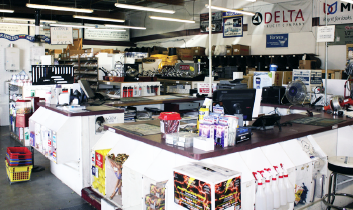 Welcome to Plumbing Wholesale Outlet, we have been servicing contractors, municipalities, schools, etc. in the business of installation and repair of commercial and residential plumbing since 1996. Plumbing Wholesale Outlet has grown to have 8 fully stocked locations to cover the entire San Gabriel Valley, East San Fernando Valley, Inland Empire, and Northern Orange County to provide our customers with the highest level of service possible. Check out our "STORE LOCATIONS TAB" for hours and maps.
Servicing our customers is an integral part of what we do, we also know your time is valuable so when you are picking up product at our locations, our experienced counter people will get your order filled quickly and get you on your way! Our vehicles and experienced delivery team are on the road every day. Communicating a delivery time to your shop or job site is just one of the services we provide. In today's market, contractors must be provided with customer service to its' fullest extent, being there when you need plumbing supplies 7 days a week, 24 hours a day, having the product in stock and delivering when it is needed. As well as, providing technical expertise, up-to-date training and plenty of literature and spec sheets to assist you.
From the smallest screw to 100gallon water heater, we've got you covered!! Please see our LINE CARD for a complete list of the of the manufacturers and product we offer. Bringing you the very best products from the best names in the business is one of our major goals, we invite you to visit any of our stores to see how we can best work with you and your company. Our growth and success has come from you, our valuable customers. We know you have many choices out there, and we appreciate your business. We will continue to work hard and maintain the strong "partnership" we have developed with you over the years and look forward to the years to come, and to building new relationships with our new and future customers!